View all posts
How Your Insurance Will be Affected by a Car Crash
04/27/2020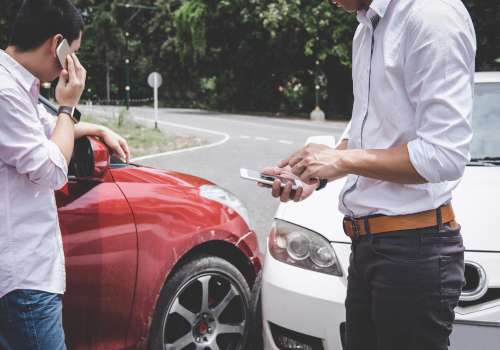 Have you recently been involved in a car crash? You may be wondering what to expect as far as your insurance rates. How big of an increase can you expect to see in monthly premiums?
In most cases, car insurance providers will add a surcharge to your monthly premiums following a car accident involving one of the drivers on the plan; however, the exact increase you'll see, and whether you will see one at all, varies by the driver, insurance carrier and state.
Here are the answers to all your questions regarding vehicle accidents and insurance rates.
What should I do after an accident?
If you've been in a car accident, you may be wondering whether you should involve your insurance provider and the authorities at all. If only minor vehicle damage was sustained in the accident at costs that are below or just above your deductible, it may be smarter to pay for the repairs on your own and not to involve your insurance provider. Before you decide to take this route, though, check your policy to see if there is a caveat requiring you to report all accidents.
When you need to file an insurance claim, you'll also have to file a police report. Be sure to do so as soon as possible after a vehicle accident. You can find the information needed for filing an insurance claim on the insurance documents that you should have in your vehicle at all times. Exchange the following information with the other driver while still at the scene of the accident:
Name of driver
Name of car owner
Names of any passengers in the car at the time of the accident
The vehicle make, model and license plate number
The driver's insurance company name, policy number and contact number for claims filing
If the police are at the scene of the accident, ask for an official police report right then as well. If you are incapacitated because of the accident, you may need to do some follow-up work when you are back on your feet to get this information. You should be able to access it through your local police department.
How much of an increase in my monthly premiums can I expect to see after an accident?
The exact increase (if any) you will see in your monthly premiums depends largely on what kind of accident you were involved in and whether you were at fault. Other factors that come into play when determining this number include your particular policy and the state where you live. Another crucial point that insurance providers consider is whether this is your first at-fault accident while on the plan. Some providers will allow one minor accident to slide without any lasting impact, while a second crash can raise your rates up to a whopping 80 percent.
A joint study between Insurance Quotes and Quadrant Information Services, which looked at data in all 50 states, found that drivers who made a single insurance claim worth $2,000 or more saw their premiums increase on average by 44.1%, or $371 a month.
Is there any way I can guarantee that my insurance provider will look away from the accident?
If you've been with the same insurance provider for a while, you may qualify for accident forgiveness, or a program many insurance providers offer in which they waive the usual post-accident surcharge for qualified drivers. In general, only drivers who've been insured by the carrier for a lengthy period of time and who have excellent driving records will be eligible for this free program. Some carriers allow other drivers to join the program for an additional monthly fee. If you are not enrolled in accident forgiveness and you think you may be eligible, speak to a representative of your insurance company to see if you can enter the program.
What if the accident isn't my fault?
If you've been involved in an accident that was clearly not your fault, your rates may or may not increase, depending on your carrier, state and whether this is your first no-fault accident. If you've been involved in several no-fault accidents, you may see a significant increase in your premiums. Your insurance provider can also refuse to renew your policy at the end of its life.
Will the car accident affect my credit score?
Your accident and the consequent higher insurance premiums will not affect your credit rating; however, a lower credit score can result in higher monthly premiums, and the reverse is true as well.
Is there any way I can lower my rates after a surcharge?
Implement some or all of these tips to lower your rates:
Improve your credit score. Increasing your credit score by paying your bills on time, keeping your credit utilization low and working on paying down your debts can help you earn a lower insurance rate.
Increase your deductible. If your insurance premiums have become unaffordable, you may want to increase your deductible. It will mean paying more out of pocket if you are involved in another accident, but you'll be able to lower your monthly premiums to a more affordable rate.
See if you qualify for any discounts. Lots of car insurance companies offer rate discounts for customers who qualify for a specific criteria, such as a multi-policy discount for bundling different kinds of insurance policies, or a good student discount for students who maintain a high academic average in school.
Shop around for another policy. If you can't find a way to lower your premiums, you can look into rates being offered by other carriers. With a bit of research, you might find a provider offering a much better rate for the same amount of coverage.